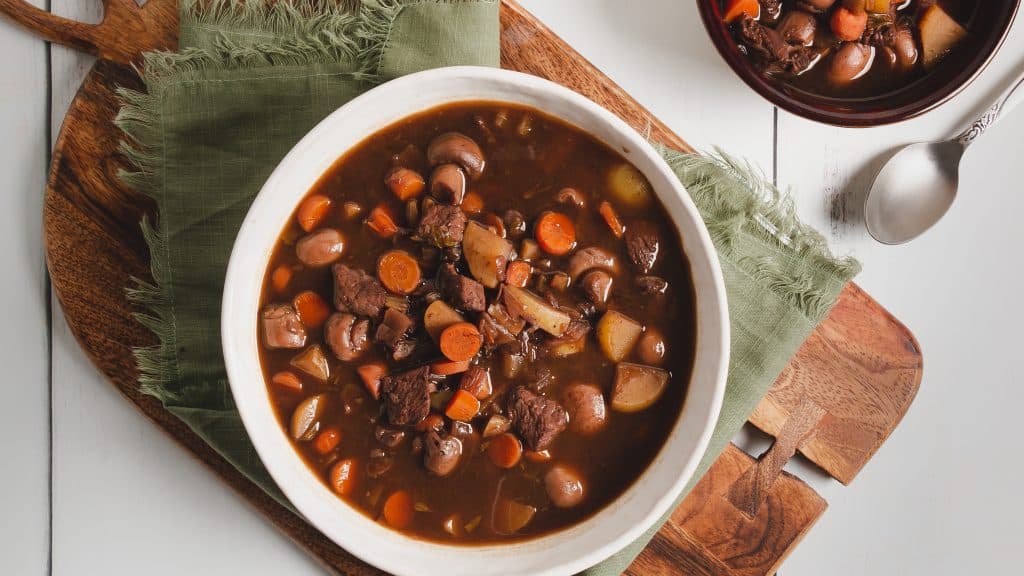 Print
Mushroom and Potato Beef Stew
Ingredients
12 oz Beef stew meat, diced
2 cups Paisley Farm Marinated Mushrooms, drained
1 cup Yellow onion, diced
½ cup Carrot, diced
½ cup Celery, diced
1 cup Yukon gold potatoes, diced
4 oz Red wine
2 quarts Beef stock
1 tablespoon Cornstarch
2 tablespoons Water
Salt and pepper, to taste
Instructions
In a large pot, heat 2 tablespoons of oil over medium-high heat. Season beef with salt and pepper and brown in pot. Remove beef and set aside.

Lower heat to medium and add in mushrooms and remaining vegetables. Cook until onions become translucent.

Add red wine to the vegetable mixture and cook until it has reduced to dry. Stir in beef stock and browned meat.

Bring pot to a boil and then reduce to a simmer and cook until potatoes are tender.

In a small bowl, mix together cornstarch and water, creating a slurry. Add to stew and allow to cook until it has thickened slightly.

Season with salt and pepper, and enjoy!