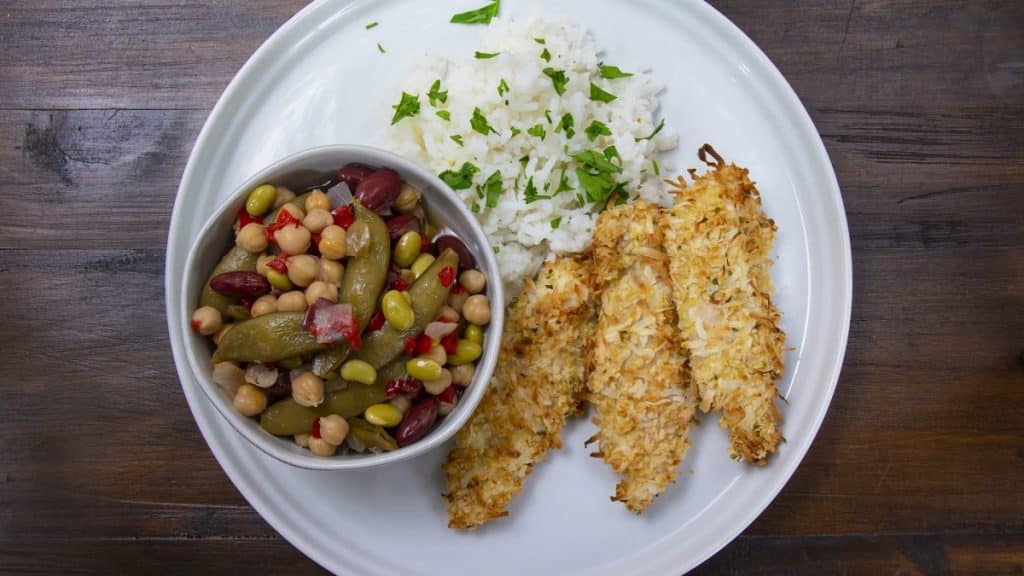 Baked Coconut Chicken Tenders
Ingredients
8 chicken breast tenders
½ cup shredded coconut, unsweetened*
½ cup panko bread crumbs
1 egg + 1 tablespoon water, whisked together
½ cup all-purpose flour
Salt and pepper, to taste
For serving:
2 cups rice, cooked
Paisley Farm Asian Bean Salad
Instructions
Preheat oven to 400 degrees.

Using 3 bowls, set up a standard breading station:

In bowl 1, mix together flour, salt and pepper.

In bowl 2, whisk together water and egg.

In bowl 3, mix together coconut and bread crumbs*

In an assembly line-style, coat chicken tenders first in flour, then egg mixture, and finally in breadcrumb mixture. Place on baking sheet and bake until cooked through, about 10-12 minutes.

Serve with rice and Paisley Farm Asian Bean Salad for a quick and easy dinner!

For a slightly different version, substitute shredded coconut for 2 tablespoons of chili powder and ¼ cup of shredded cheddar cheese and serve with Paisley Farm Southwest Bean Salad!