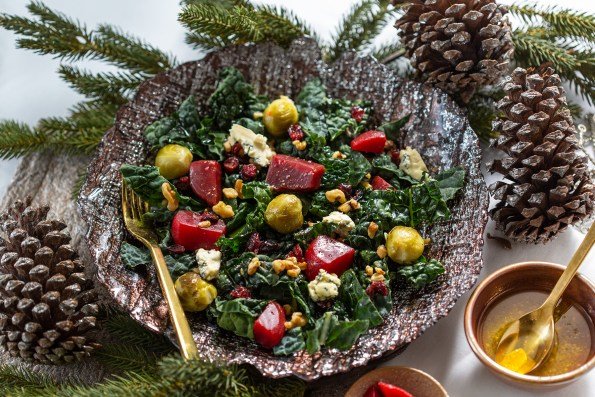 Print
Winter Holiday Salad w/ Kale, Beets + Brussels
This recipe was created by The Artful Gourmet for The Paisley Farm Recipe Challenge.
Ingredients
1/2 cup extra virgin olive oil
3 tablespoons Chardonnay balsamic vinegar
3 tablespoons blood orange juice
1 tablespoon minced onions
1 teaspoon Dijon mustard
Sea salt and freshly ground black pepper
2 cups Tuscan Kale, chopped
1 cup Paisley Farm Sweet Pickled Beets
1 cup Paisley Farm Hot Brussels Sprouts
1/2 cup blue cheese, torn into pieces (Cambozola)
1/2 cup toasted walnuts
1/2 cup dried cranberries
Instructions
Whisk together white balsamic vinegar, blood orange juice, onion and dijon mustard. Slowly whisk in olive oil until vinaigrette emulsifies. Season with sea salt and freshly ground pepper to taste and whisk a little more, set aside.

In a medium-large salad or serving bowl, add the kale, top with Sweet Pickled Beets, Spicy Brussels Sprouts, blue cheese, toasted walnuts and dried cranberries.

Drizzle the vinaigrette on top of the salad and toss together, or serve on the side in a small bowl.