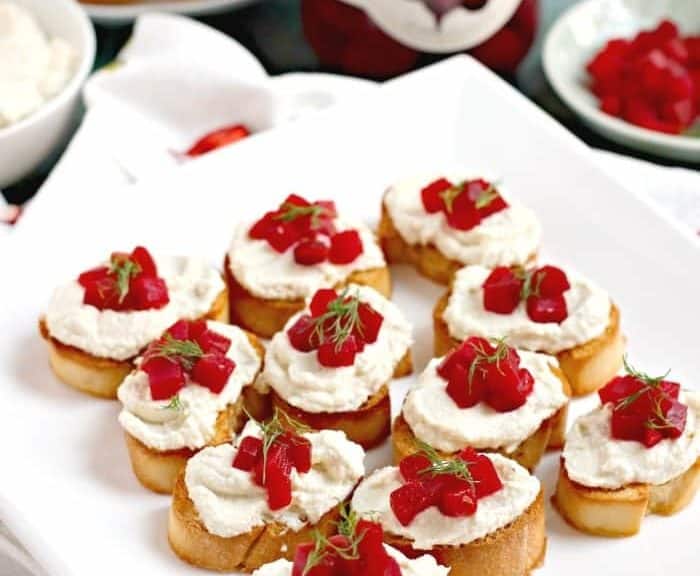 Print
Tofu Ricotta Crostini with Pickled Beets
This recipe was created by Veggies Save the Day for The Paisley Farm Recipe Challenge.
Ingredients
1 baguette (I use gluten-free)
2 Tablespoons olive oil
1/2 pound firm tofu (drained and pressed)
zest of 1/2 lemon
juice of 1/2 lemon
1 clove garlic minced
1/2 teaspoon dried oregano
1/2 teaspoon salt
1/4 cup Paisley Farm Sweet Pickled Beets, diced small
fresh dill for garnish
Instructions
Heat oven to 375 degrees F (190 degrees C).

Slice the baguette crosswise into 1/4-inch thick slices. Arrange the slices on a baking sheet. Brush the tops of each slice with olive oil. Bake for 10-15 minutes until lightly toasted and golden brown. Remove the baking sheet from the oven and let the crostini cool to room temperature.

Meanwhile, prepare the tofu ricotta by placing the drained and pressed tofu in a food processor along with the lemon zest and juice, garlic, oregano, and salt. Process until completely smooth, scraping down the sides of the bowl as necessary.

Spread a thick layer of tofu ricotta on a piece of toasted baguette, then top with about a teaspoon of diced pickled beets and a little fresh dill. Repeat with each toast and serve immediately.