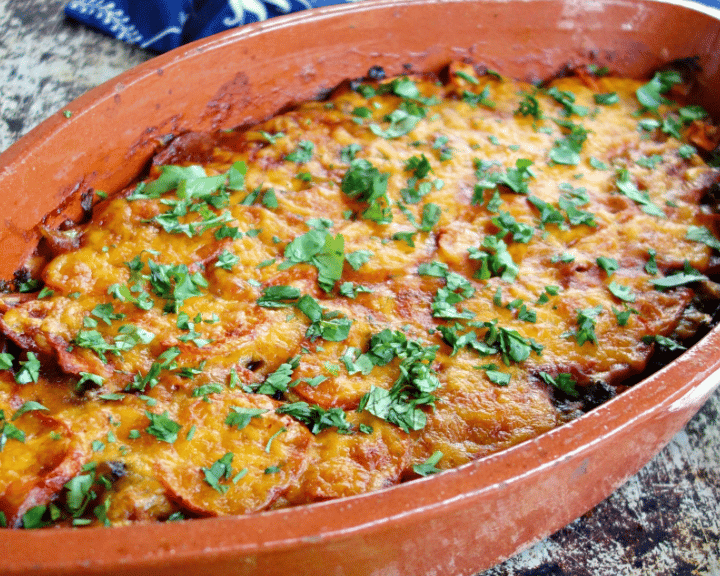 Print
Sweet Potato Enchilada Bake
This recipe was created by Power Hungry for The Paisley Farm Recipe Challenge.
Ingredients
2 cups red enchilada sauce
1 large sweet potato (1 pound), peeled and very thinly sliced
1 24-ounce jar Paisley Farm Five Bean Salad, well-drained
6 cups chopped lacinato or curly kale (tough stems removed)
½ cup fresh cilantro leaves, chopped
2 cups shredded Cheddar cheese (I used nondairy, but use dairy cheese if you like)
Optional garnish: additional chopped cilantro leaves
Instructions
Preheat oven to 400F.

Pour ⅓ of the enchilada sauce in the bottom of a medium-large baking pan (e.g., 11x7 inches). Layer ⅓ of the sweet potatoes on top followed by half the kale, half the bean salad, half the cilantro and ⅓ of the cheese.

Pour another third of the sauce over and repeat the layers. Pour the remaining sauce over and top with the remaining sweet potatoes.

Tightly cover the pan with foil and bake for 1 hour and 10 to 20 minutes until the sweet potatoes are fork tender.

Remove the foil and sprinkle with the remaining cheese. Bake for 10 minutes longer.

Let the casserole sit for about 10 minutes before sprinkling with the optional cilantro and serving.