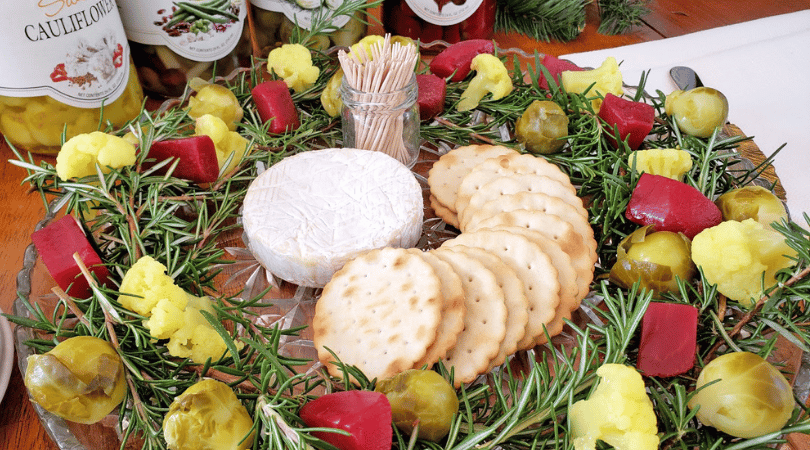 Print
Pickled Vegetable Wreath
This recipe was created by Bored Mom for The Paisley Farm Recipe Challenge.
Ingredients
1/2 cup Paisley Farm Brussels Sprouts – Either Dilled or Hot, drained
1/2 cup Paisley Farm Sweet Pickled Beets, drained
1/2 cup Cauliflower, drained
20 sprigs of fresh rosemary
8oz creamy style cheese, such as Brie or Camembert
sturdy crackers
Instructions
Using a round decorative platter that is somewhat flat, lay out the rosemary sprigs into a circular shape near the outer rim of the platter.

Start with one type of vegetable and disperse evenly (about 10-12 pieces). Put out the next 10-12 pieces of another vegetable, and then another until everything looks spaced out and even.

Place a creamy style cheese round in the center of the wreath with crackers and a tiny jar of toothpicks. Creamy cheese pairs very well with the tangy pickles.

Party Tip:

When you are done with the rosemary wreath, wash the sprigs with warm water and pat dry. Store in a large plastic ziplock bag with a paper towel. You can recreate this wreath appetizer platter again at another upcoming party or potluck event!