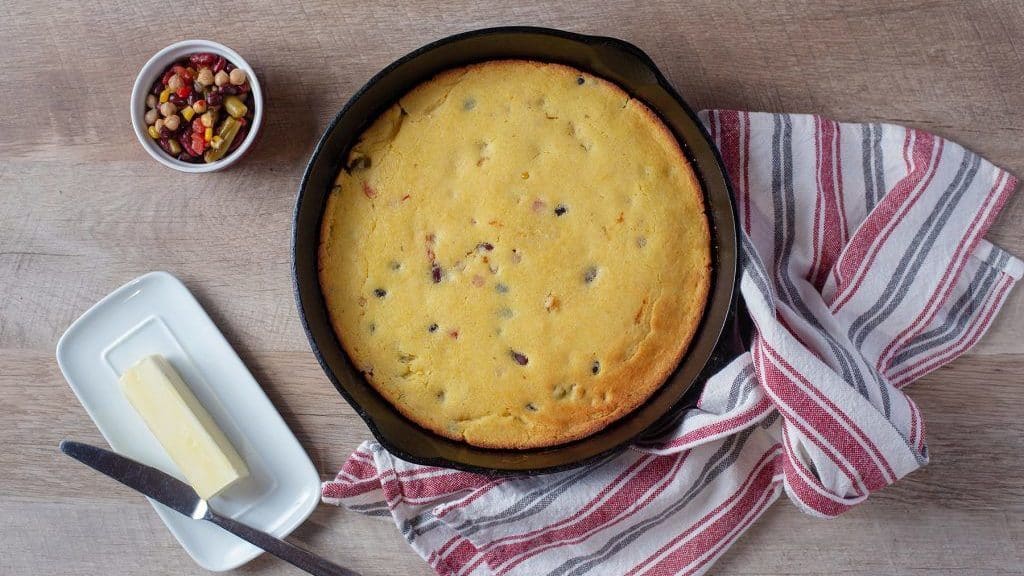 Print
Paisley Farm Skillet Corn Bread
This recipe was created by The Prudent Garden for The Paisley Farm Recipe Challenge.
Ingredients
1 stick (1/2 cup) unsalted butter, melted and cooled.
1 tablespoon of butter
1/3 cup honey
1 large egg, at room temperature
1 cup buttermilk, at room temperature
1 cup yellow cornmeal
1 cup all-purpose flour
1 teaspoon baking powder
1/2 teaspoon baking soda
1/8 teaspoon salt
1 cup Paisley Farm Four Bean Salad
10 inch cast iron or another oven-safe skillet
Instructions
Preheat oven to 400°F.

Whisk the honey, egg, and buttermilk into the melted butter. Set aside.

In a separate larger bowl, mix the cornmeal, flour, baking powder, baking soda, and salt together.

Pour the wet mixture into the dry mixture and whisk until just combined.

Gently fold in Paisley Farm Four Bean Salad.

Place the tablespoon of butter into the skillet and then place the skillet in the oven to heat it up for a minute or two.

Pour batter into the hot skillet.

Bake for 20 minutes or until the edges and top are golden brown.