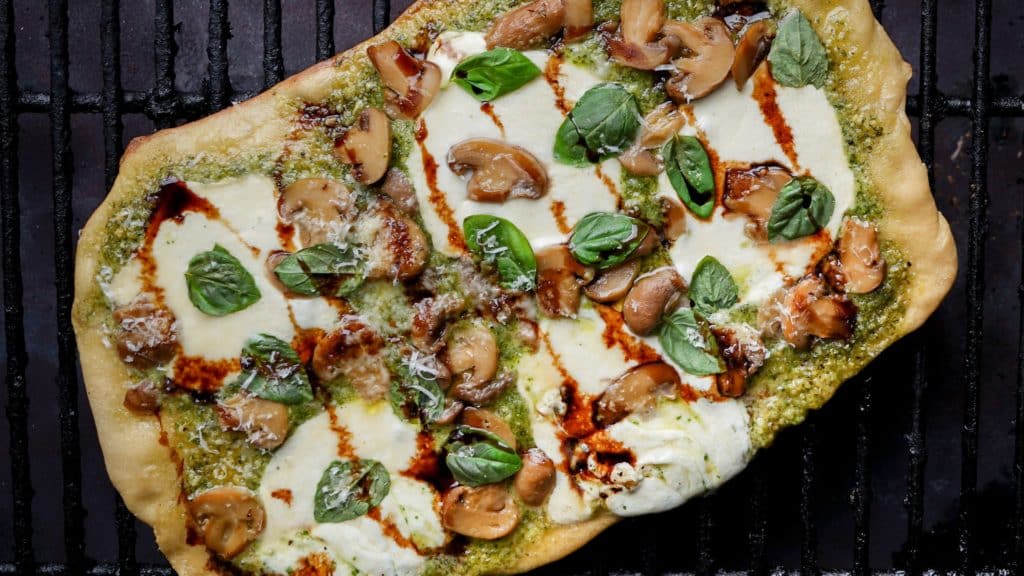 Print
Mushroom and Pesto Flatbread
@BBQwithBoterman on Instagram was inspired by our Organic Marinated Mushrooms for this tasty flatbread recipe!
Ingredients
For Pesto:
2 cups fresh basil leaves (packed)
1/2 cup freshly grated Parmesan cheese
1/2 cup extra virgin olive oil
1/3 cup pine nuts
3-4 cloves garlic (minced)
1/4 teaspoon kosher salt
1/8 teaspoon freshly ground black pepper
For Flatbread:
8oz pizza dough, rolled thin
1 cup pesto
¾ cup Paisley Farm Organic Marinated Mushrooms (sliced)
4oz fresh mozzarella, sliced thin
Garnish- freshly grated Parmesan, balsamic vinegar of your choice, fresh basil leaves.
Instructions
Make pesto- Combine basil leaves and pine nuts in a food processor. Pulse 3-4 times. Add garlic and cheese, pulse again 3-4 times. Clean the sides down with a spatula. Add salt and pepper.

Turn on the food processor and slowly drizzle in olive oil. Clean down the sides with a spatula. Blend until the mixture is the consistency of a thick sauce. Set aside.

Preheat grill on high.

Place dough on grill and cook until the top of the dough starts to bubble.

Flip and top with pesto, mushrooms and mozzarella.

Close lid to melt cheese.

Carefully take off grill, garnish with freshly grated Parmesan, a swirl of balsamic vinegar, and fresh basil leaves. Enjoy!