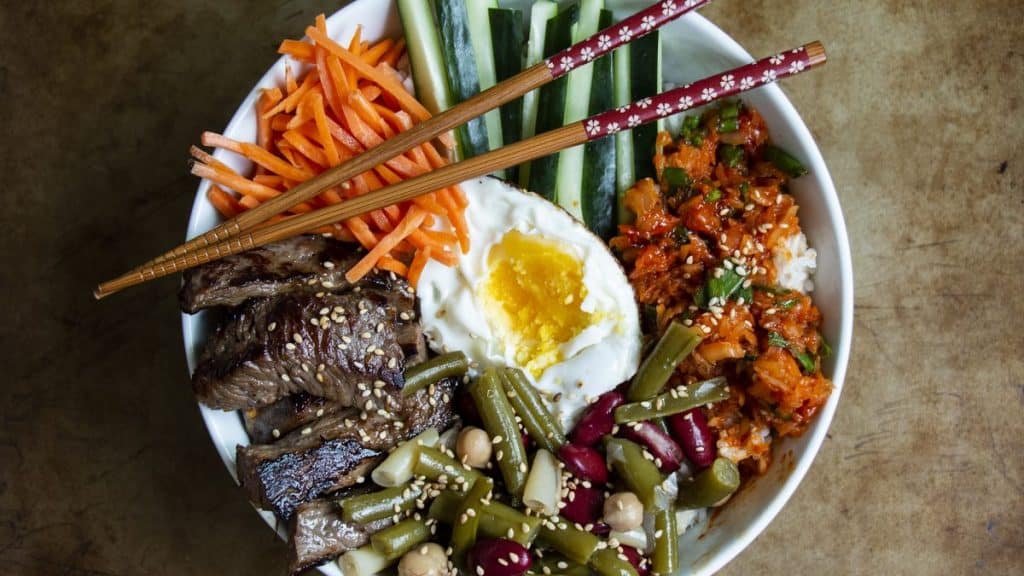 Print
Ingredients
2 oz sliced steak
1 tablespoon soy sauce
1 teaspoon brown sugar
2 teaspoons Sriracha sauce
1 teaspoon sesame oil
1 cup rice, cooked
2 tablespoons Paisley Farm Four Bean Salad, drained
1 tablespoon shredded carrots
1 tablespoon Kimchi
1 tablespoon sliced cucumber
1 over-easy egg
Sesame seeds
Green onion, sliced
Instructions
In a medium mixing bowl, combine steak, soy sauce, brown sugar, Sriracha sauce, and sesame oil. Marinate for 10 minutes.

Pour steak and marinade in a medium skillet, and cook for 5 minutes, until steak is browned and cooked through. Remove steak from skillet and set aside. Using the same skillet warm bean salad through in remaining sauce.

Place cooked rice in a serving bowl and top with sliced steak, warm bean salad, carrots, kimchi, cucumber and egg.

Garnish with sesame seeds and green onions.

Enjoy!