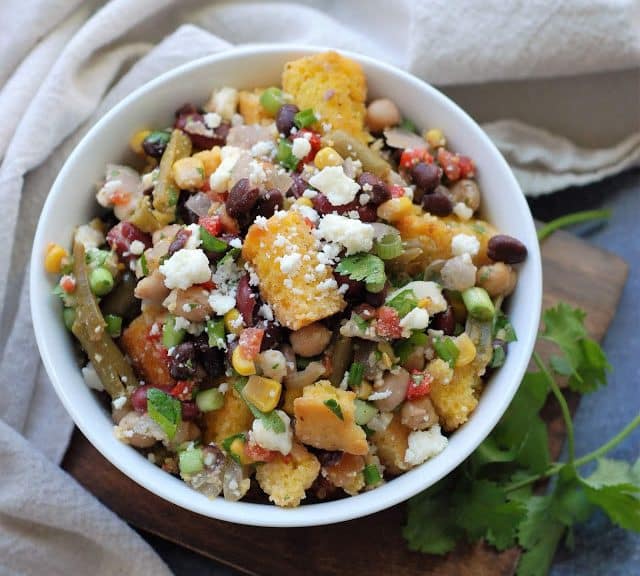 Print
Five Bean Salad Panzanella
This recipe was created by Fleur Delectable for The Paisley Farm Recipe Challenge.
Ingredients
4 cups cornbread cut into 1-inch cubes
1 ½ Tablespoons marinade from the jar of Paisley Farm Five Bean Salad
1 ½ Tablespoons red wine vinegar
2 Tablespoons olive oil
1 Tablespoon lime juice
1 teaspoon cumin
1 jar Paisley Farm Five Bean Salad, drained
½ cup crumbled queso fresco cheese
¼ cup packed cilantro leaves, chopped
¼ cup sliced green onion
Instructions
Preheat oven to 375 degrees.

Lay the cornbread cubes on a small cookie sheet that has been sprayed with olive oil spray, and place in the oven for 10-12 minutes, or until lightly browned and toasted.

In a large mixing bowl, whisk together the marinade from the Bean Salad, red wine vinegar, olive oil, lime juice and cumin. Add the Bean Salad, cheese, cilantro and green onion and stir until it's well mixed. Add the toasted cornbread cubes to the bowl and stir gently. Serve immediately.