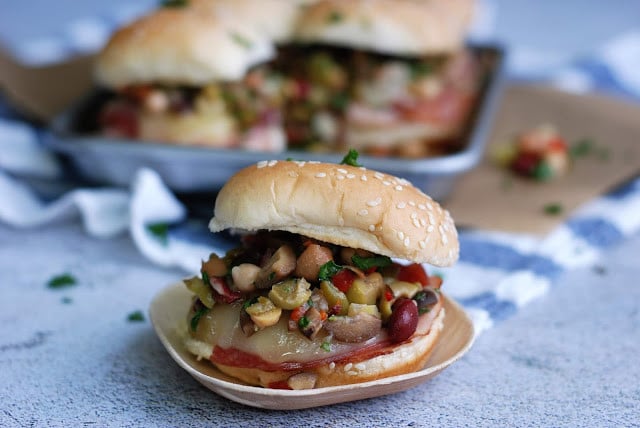 Print
Five Bean Salad Mini Muffulettas
This recipe was created by Fleur Delectable for The Paisley Farm Recipe Challenge.
Ingredients
1 cup Paisley Farm Five Bean Salad, drained
2/3 cup green olives with pimentos
2/3 cup black olives
2 ½ Tablespoons minced fresh parsley
4 teaspoons zesty Italian salad dressing
12 slider sized sesame seed hamburger buns
10 ounces shaved deli ham
4 ounces sliced salami
5 ounces sliced provolone cheese
5 ounces sliced swiss cheese
Instructions
Preheat oven to 325 degrees.

Coarsely chop the Five Bean Salad, green olives and black olives. Add the chopped vegetables to a medium mixing bowl along with the parsley and salad dressing. Stir to combine.

Lay the slider bun bottoms onto a parchment paper lined cookie sheet. Top each bun bottom evenly with ham, salami, provolone and then swiss cheese.

Place in the oven for 7-10 minutes, or until the cheese is melted.

Remove the pan from the oven, top each slider with the marinated bean relish, place the bun lids on top and serve immediately.