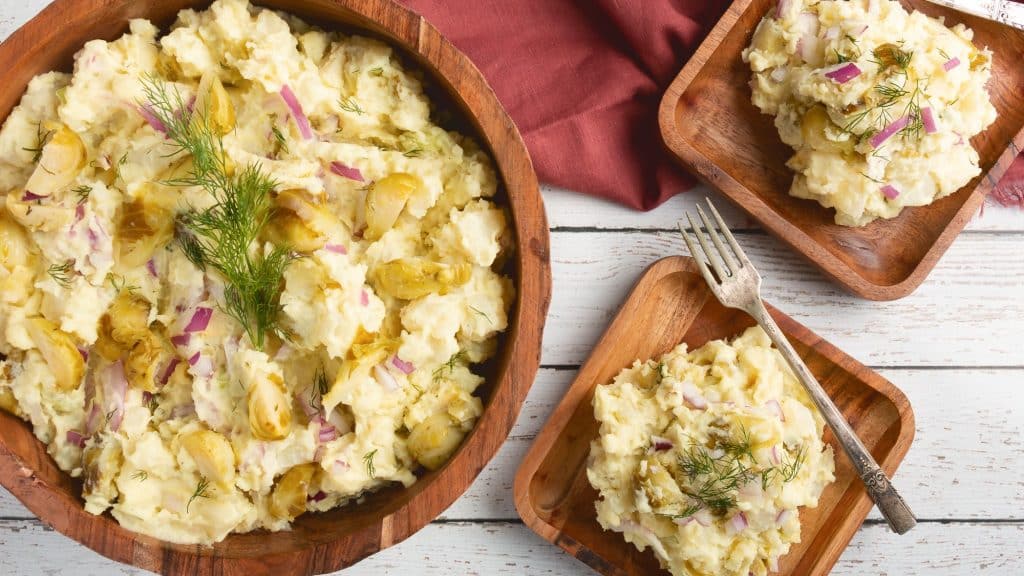 Print
Dilled Brussels Sprouts Potato Salad
This recipe was created by The Prize of Cooking for The Paisley Farm Recipe Challenge.
Ingredients
6 large russet potatoes, peeled and cubed
2 teaspoons kosher salt, divided
1/2 cup celery, diced
2 tablespoons onion, finely minced
6 boiled eggs, (4 eggs diced and 2 reserved for garnish)
3/4 cup mayonnaise
2 tablespoons yellow mustard
1 24 ounce jar Paisley Farm Dilled Brussels Sprouts, drained
1/2 teaspoon black pepper
1 teaspoon sugar
1 teaspoon onion powder
Sprig of fresh dill is optional for garnish
Instructions
Add the diced potatoes to a large pot, cover with cold water and add 1 teaspoon of kosher salt. Bring to a boil and cook until potatoes are fork tender. Drain potatoes when cooked and set aside.

While potatoes are boiling, cut each brussels sprout into quarters lengthwise. Remove a small amount of cut brussels sprouts for garnish and set aside.

In a bowl, blend the mayonnaise, yellow mustard, celery, onion, black pepper, 1 teaspoon kosher salt, sugar and onion powder.

Once potatoes are cooked and drained, blend in the dressing. Gently toss in the cut Dilled Brussels Sprouts and diced boiled eggs.

To serve, arrange the reserved cut brussels sprouts in the center of the potato salad and arrange the reserved cut boiled eggs around the brussels sprouts. A sprig of fresh dill can be added for garnish or a sprinkling of dried dill would be nice too.