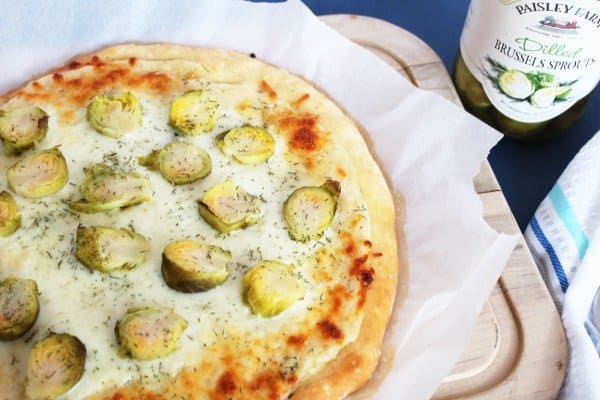 Print
Dilled Brussels Sprouts Pizza
This recipe was created by Bottom Left of the Mitten for The Paisley Farm Recipe Challenge.
Ingredients
1 pizza crust either premade or made per package directions
4 Tbs unsalted butter
3 garlic cloves minced
1 Tbs flour
3-4 Tbs milk
1/4 tsp black pepper
1/2 tsp salt
1 1/2 cup mozzarella cheese, shredded
1/2 cup Paisley Farms Dilled Brussels Sprouts halved
1/2 tsp dill weed
Instructions
Preheat the oven to 375 degrees and prepare the pizza crust according to package directions or your favorite pizza crust recipe.

In a small saucepan melt the butter over medium heat.

Whisk in the minced garlic then sauté for 30 seconds.

To the butter, add the 1 Tbs flour a little at the time, constantly whisking the butter.

Whisk in the milk to thin out the mixture then let thicken to a sauce. Turn off the heat.

Top the prepared pizza crust with the sauce. Add the cheese.

Slice the Dilled Brussels Sprouts and add to the top of the pizza and sprinkle dill weed over the top of the pizza.

Bake the pizza for 18-20 minutes. Slice into 8 slices. Enjoy!