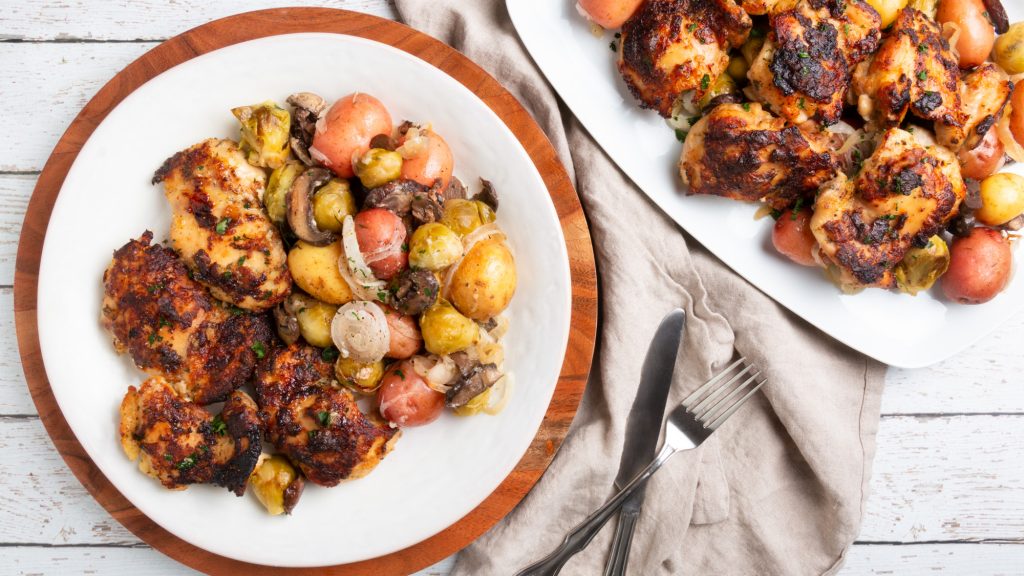 Print
Crispy Ranch Chicken Thighs with Potatoes, Mushrooms and Dilled Brussels Sprouts
This recipe was created by Coconut and Lime for The Paisley Farm Recipe Challenge.
Ingredients
8 chicken thighs (about 1 1/2 lb)
1 1/2 tablespoon buttermilk ranch dressing mix
8 oz crimini mushrooms (halved if large)
1 lb "baby" potatoes
3/4 cup caramelized onions* (about 2 onion's worth)
1 1/2 cup Paisley Farm Dilled Brussels Sprouts (with brine, about half a 24-oz jar)
superfine flour (like Wondra)
freshly ground black pepper
Instructions
Preheat oven to 375. Lightly oil or spray with cooking spray a 9x13 inch baking pan. Set aside.

Heat a small amount of oil in a large skillet.

Sprinkle both sides of the chicken with ranch mix, flour, and pepper. Flour the top (skin-side) of the chicken. Place the chicken skin-side down in the pan.

Cook about 10 minutes or until the skin is crisp, lightly browned and much of the fat has rendered into the pan. DO NOT FLIP THE CHICKEN!

Meanwhile, arrange the potatoes, mushrooms, Dilled Brussels Sprouts and onions in single layer in the baking pan.

Top with the chicken, skin-side up.

Bake for 30-40 minutes or until the chicken is fully cooked and the potatoes are tender. Serve immediately.

In a time pinch? Just use thinly sliced raw onion slices under the chicken.